Members of the Board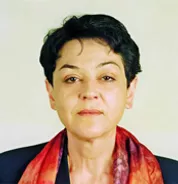 Effie Voutira
Natalie Forcier
Natalie has spent the past ten years conducting research in Mozambique, South Sudan, Egypt, Sudan, Yemen, Uganda and Somalia and has overseen data collection, analysis and report writing for more than 100 research projects in her career. She has conducted work for a wide range of institutions including UN agencies, donor governments, development and relief organizations and multi-national corporations. Before moving to South Sudan in 2009, she conducted an ethnographic study with South Sudanese refugee youth for the Center for Migration and Refugee Studies at the American University in Cairo from 2008-2009.
Her accolades include a BA in International Affairs – Global Public Health from the George Washington University and an MA in International Human Rights Law from the American University in Cairo. She also holds a Graduate Diploma in Forced Migration and Refugee Studies from the American University in Cairo. Natalie met Barbara during her time at the American University in Cairo and worked closely with Barbara until her passing, on the concepts and ideas behind the Foundation.
Gail Hopkins
Gail has an extremely successful career as an independent consultant focusing on refugees and migrants particularly in protracted and self-settled situations. She has great expertise in re-integration, self-reliance and resilience at community, household and individual levels and has also consulted for UNHCR in West Africa and Europe. Barbara and Gail met several years ago, when she provided expertise on The Gambia and Guinea appeal report. They worked together on cases in the following years together, advocating for the rights of refugees and asylum seekers. During this time, Gail witnessed Babara's efforts working doggedly for an individual's rights, sometimes battering down the door of UNHCR, and putting her hand in her own pocket for refugees' transport/education/rent/food requests.
Effie Voutira
Eftihia (Effie) studied Philosophy at the University of Chicago, and earned two doctorates from Havard and Cambridge University. In her professional career she has undertaken extensive fieldwork in the former Soviet Union, in South and Central Africa, and in the Middle East. She has also published extensively on issues of refugee protection and humanitarian assistance.
Effie met Barbara in 1990's. Since then, she was recruited into the RSP team and taught as a Research Assistant at the Refugee Studies Programme, and then as an RSP Research Officer. In that capacity, Effie collaborated closely with Barbara as a co-author and in a number of key papers. Effie had been a close friend and collaborator of Barbara's for the last 25 years. Their last common venture was the visit to Elizabeth Colson in Zambia, which reinforced common links with their problematic conception of refugees and forced migration. Barbara's flats in Oxford and in Cairo have been Effie's home away from home for all these years.
Katarzyna (Kasia) Grabska
Kasia is a social anthropologist and a senior lecturer at the Institute of Social Studies (ISS) of Erasmus University. Her research focuses include gender,displacement and access to rights for refugees in urban settings. She has researched issues in Egypt, Kenya, Sudan, South Sudan, Ethiopia, Ghana, Kyrgyzstan, and Vietnam. Since 2002, she has been carrying out a longitudinal study of gender relation transformations among Nuer from South Sudan in Egypt, Kenya, South Sudan and in Khartoum. Her most recent research focuses on adolescent refugee girls' experiences in Sudan, and on refugees' involvement in civic change and hosting refugees in Sudan and in Switzerland. She also has as successful career as a film-maker, and is the writer, producer and co-director of the film Barbara Harrell-Bond: a life not ordinary.
Kasia met Barbara in Cairo in 2002, when she assisted in the running of the Refugees and Forced Migration Programme at the American University in Cairo and subsequently became involved in research on the livelihoods of Sudanese asylum seekers and rejected refugees in Cairo. Inspired by Barbara's passion for refugee rights, Kasia undertook a PhD in anthropology of development and forced migration. "Babara's insistence of keeping refugees as the focus of humanitarian interventions and including refugees in research about their own circumstances has inspired me and informed my work and my own commitments. Making the film about her life was my way of saying thank you to her inspiration and long-life commitment to social justice."
Giorgia Donà
Professor Giorgia is co- director of the Centre for Migration, Refugees and Belonging at the University of East London and a Fellow of the UK Higher Education Academy. She has researched and published extensively in the areas of refugee studies, conflict and displacement, child protection, culture, adaptation and well-being, and recently social media and forced migration. Her latest publication is Forced Migration: Current Issues and Debates (ed, 2018 Routledge, with Alice Bloch). Giorgia is a member of the Independent Advisory Group on Country of Origin Information set up by the Independent Chief Inspector of Borders and Immigration, and editorial board member of the International Journal of Migration, Health and Social Care and of Critical Childhood Studies.
Giorgia first met Barbara in 1990 when she participated in the Summer School at the then Refugee Studies Program (RSP) as as a young Masters student. Between 1994 and 1996, she worked for and with Barbara at the RSP before moving to Africa where she worked in humanitarian assistance until 2000. It was thanks to Barbara's generosity and ingenious mind that a fax signed by Barbara reached Giorgia in Kigali, Rwanda, telling her to apply for a position at the University of East London (UEL) where she has been since. Giorgia and colleagues took students enrolled in the Master of Refugee Studies at UEL on field trips to Cairo when Barbara was there, and had remained in contact with Barbara professionally and personally.